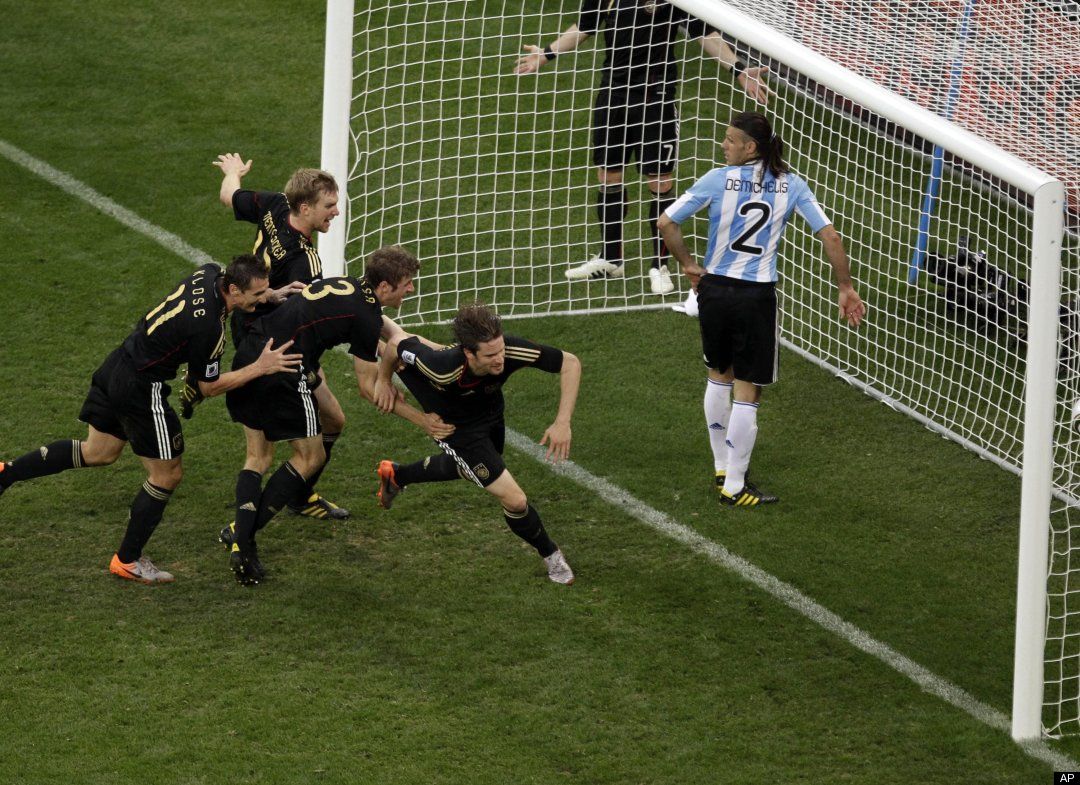 My last post was about a psychic Octopus whose predictions have turned out to be absolutely correct so far in this world cup ( check the
last post here
). And now guess what? Paul, the octopus, is right, once again. Three time world champs Germany have shown the great Diego Maradona's men the door. They beat Argentina comprehensively.
What a match!! What a scoreline!!
4-0
Yes, 4-0
And Argentina were supposed to win the World Cup
This was supposed to be a highly competitive quarter-final match ........Now I think, maybe, Argentina were a bit highly rated, especially if you look at the struggles they had to go through before they qualified for the World Cup finals.
World player of the year, Messi, looked only a shade of himself as he failed to break through Germany's defenses. It's a shame he couldn't even score a single goal in this tournament. Despite his sincere efforts, Messi failed to produce the desired results.
And then every team is supposed to have some defenders ....Maybe, the Argentinians forgot about that. When Klose, Podolski and Schweinsteiger were moving in the Argentinian half, it looked like an open field. It literally seemed like they were strolling in the park.
Whatever Argentina lacked, Germany had plenty of it. They German defense was rock solid and their strikers sharp. They were off to a dream start when Muller headed the ball curled in by Schweinsteiger's free kick just after 3 minutes into the game. Miroslav Klose, Germany's best striker, celebrated his 100th international appearance with 2 goals. He's now just one short of Ronaldo's record of most goals in the World Cup. Friedrich joined in the party as well, scoring his first goal in 76 international appearances. And the best part of today's game was Germany's clinical counter-attacking display. It was simply awesome. Germany's Chancellor, Angela Merkel, was also there in the stadium to cheer for her team and that certainly inspired the players as well.
"We just had a bad game. If you make mistakes like that, you go home" Carlos Tevez said at the end of the game. Maybe, they made the mistakes a bit too many. Maybe, it was because Maradona was so mesmerized with his star player, Messi, that he forgot about the rest. What was the most irritating thing about Maradona over the past couple of weeks was that in all the interviews and press conferences he only spoke of Messi. Messi, alone, can do only a little. Other players had to chip in as well. Now, they have 4 more years to ponder over their mistakes but I, certainly, do feel that this was a great opportunity wasted as far as Argentina are concerned.
Well as far as Germany is concerned, now, they have only one way to go ----- forward. Paul, the octopus, got his predictions right this time as well. Let's see what's his prediction for the semi-finals. Watch this space ....I'm just waiting for Paul's prediction and then I'll blog about it. So, stay tuned...
Continue reading...